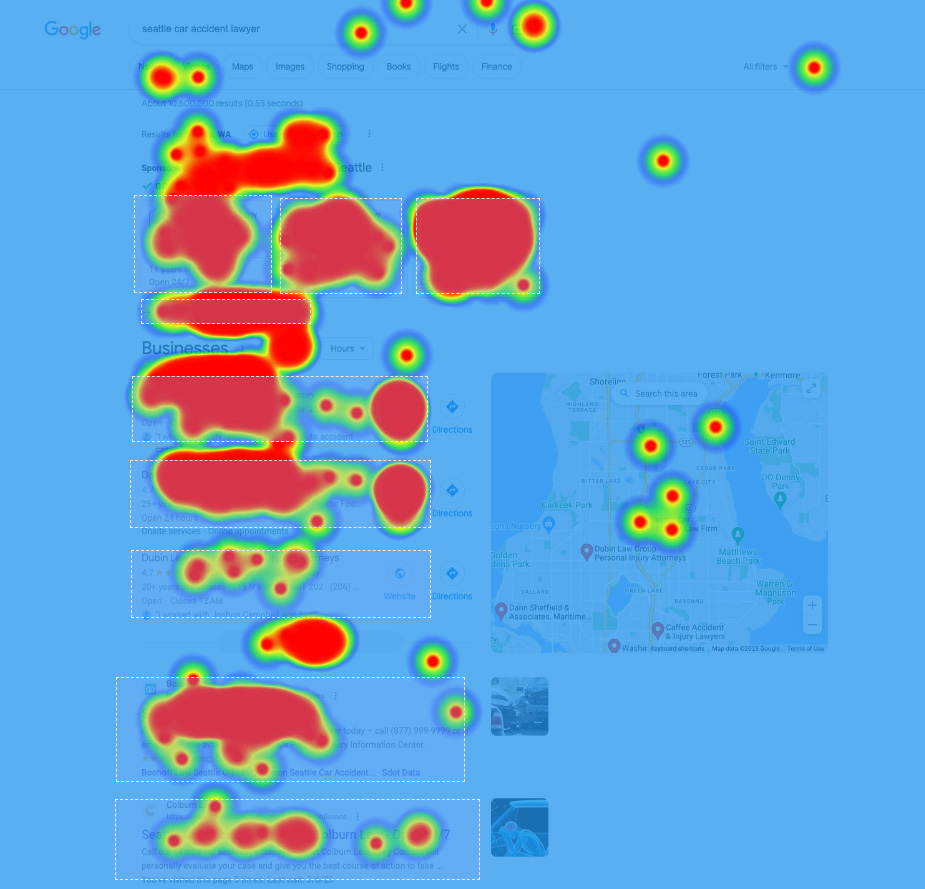 In an ever-evolving digital marketing environment, one element remains consistent – Google's domination of search engine market share. This also holds true when it comes to how consumers research and look for lawyers online, with 90% of consumers saying they would use Google. As marketers, we want to know where people are clicking when it comes to Google search results. Are people clicking on LSAs more than traditional search ads? What percentage of people click on local packs? How does the placement of ads and local pack impact organic clicks? To find out, we ran a click-test study of a Google search result page with a total of 1,001 participants.
Each person in our study was shown an image of Google search results. They were asked to click on the one search result that they were most likely to click first if they were looking for a car accident lawyer. They were also asked to explain why they clicked where they did.
Note: It's important to keep in mind that this was a "first-click" study, meaning the user only clicked one time on the image. The main study purpose was to identify what parts of the search results captured the user's attention the most. In a "real world" scenario, users click on many different results when using Google to find law firms online. However, understanding what makes people click where they do is a crucial part of optimizing any digital marketing campaign.
SERP Click Distribution
While clicks were all over the place, as shown in the click map image below, the LSAs received the most clicks, followed by the local pack and then organic search results. We'll dig into each of these items below.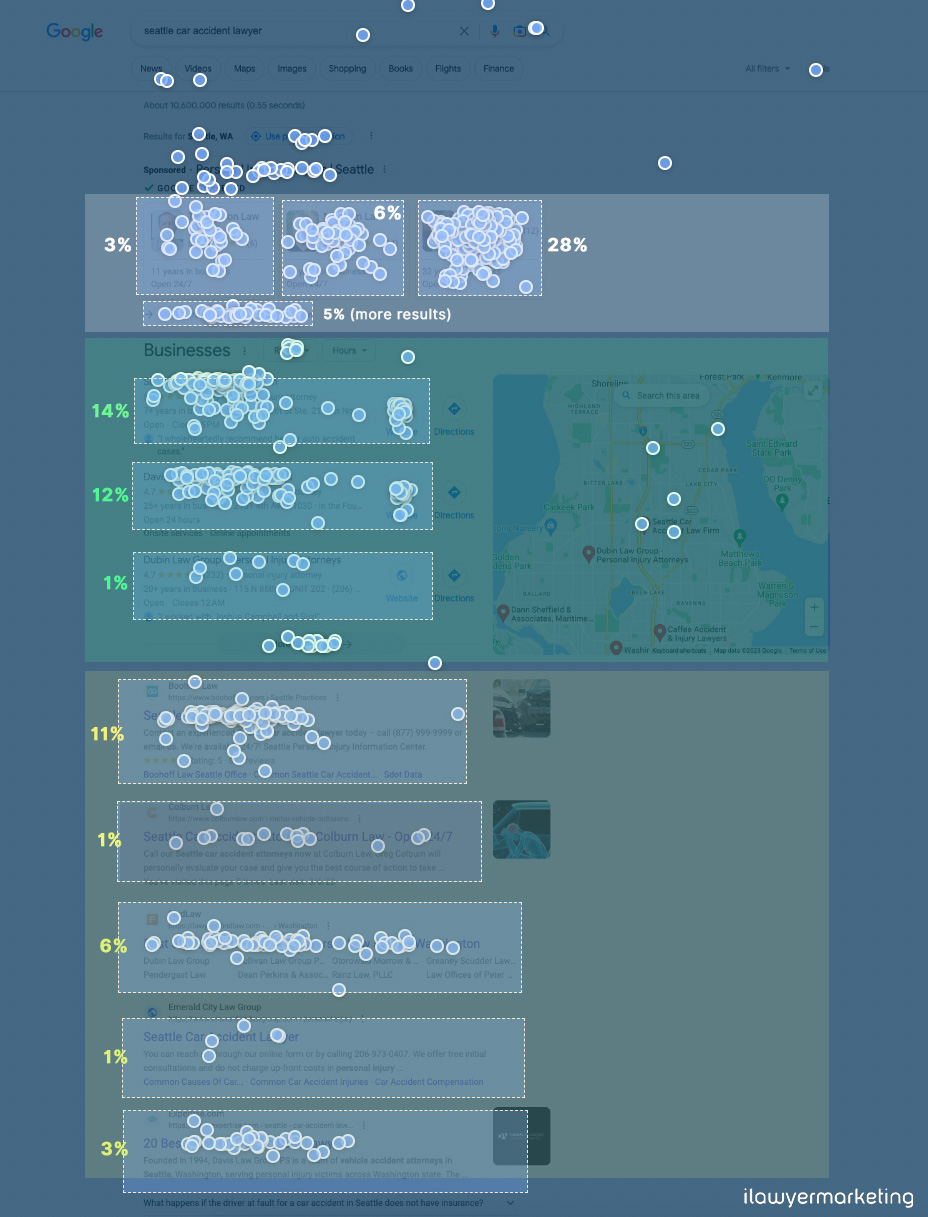 LSAs

In our study, the LSAs clearly got the most activity. Considering LSAs are positioned at the very top of the page for most local searches for law firms, I don't think this will shock most marketers. If you combine the 3 LSAs plus the "more results" link below those ads, 42% of participants clicked LSA-related links. One ad, in particular, was the most clicked of any element on the page, at a whopping 28%. Interestingly, the very first LSA ad only received 3% of the clicks and the LSA in the middle received 6%. We expected that first LSA to receive a much higher percentage of first-clicks, but these results show that it's not simply about your location on the page. Reviews of course are a huge influencer in CTR, as well as the text that accompanies the ad. As for the ad that received 28% of the clicks, here are some of the specific reasons why participants clicked where they did:
"It has the most positive ratings."
"It had the highest star rating with the most rating contributions. An added plus was it also had the most years in service."
"It had a 5-star rating with the most reviews. I initially noticed Seattle Car Accident Law Firm first, but there were fewer reviews, so I clicked on the link with more reviews."
"High number of good reviews, high number of years in business."
"I liked that this lawyer was Google-screened, had 32 years of experience, and a high number of positive reviews."
You can see the pattern here. It's all about the star ratings, review count, and years of experience.
Local Packs

The Local Packs received 29% of the first-clicks in our study. The local pack listed #1 received 14% of the clicks, #2 received 12% and #3 only received 1% of clicks, which was surprising. The remainder of the clicks went to the filter by rating drop-down that appears above the first map pack listing. Here are some of the reasons that users gave for why they clicked on where they did in the local packs.
"I typically skip directly past sponsored results, and I would be drawn toward search results that have a lot of reviews and have been around for a while."
"I want to see real user reviews for each business. The 'Google screened" seems fake and probably they paid Google to be there."
"High rating and years in practice"
"This is an established law firm with over 20 years of experience. I would start my search with this law firm."
"They had very good reviews and were in business the longest so probably have a lot of good cases under their belts and know the area well."
Just like the LSAs, ratings, and reviews were the most common reasons participants gave for why they clicked where they did.
Organics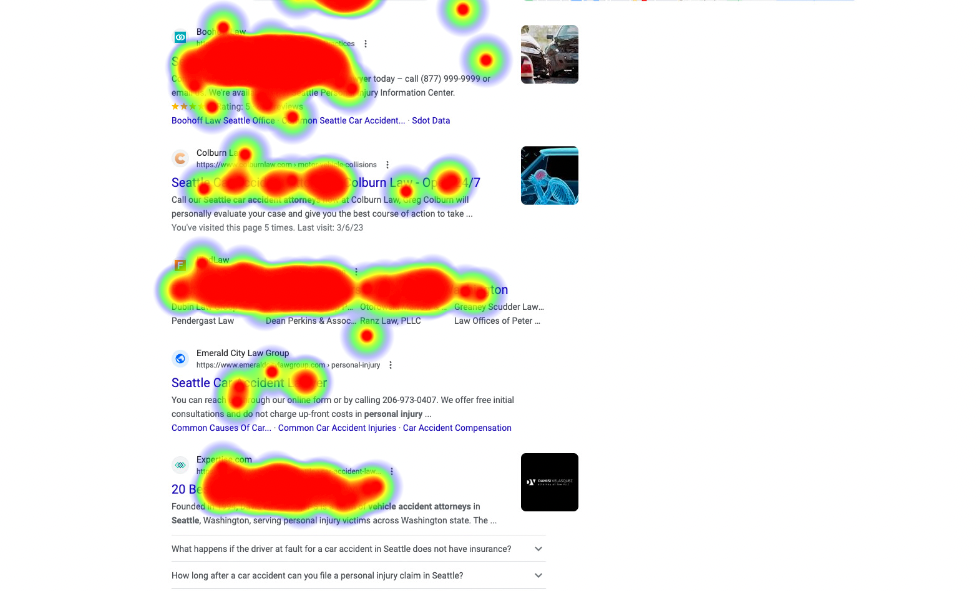 The top 5 organic listings received 22% of the first-clicks in our study, with the #1 position accounting for 50% of the total. Interestingly, the #3 organic position received 6% of clicks and the #2 organic spot only took in 1%. This goes to show you that consumers don't always click on results in the order in which they appear. Many users scan the page and read the titles and descriptions to help them decide which listings to click on. This is why it's important to pay attention to CTR optimization. I don't think anyone would be surprised that the organics took in fewer clicks than the LSAs or local packs, considering how far down the page the organics were here. Considering that Google continues to emphasize paid listings and with all the changes occurring in Google SERPs, don't expect this to get better for these bottom-of-the-funnel searches. Here are some of the reasons given for why users made this their 1st click:
"Because the first regular Google results are usually the most trustworthy."
"It is the first link of the main results. I don't usually trust the sponsored ones."
"Because the link was not labeled as sponsored."
"Looking for a curated list of the best lawyers from a trustworthy source"
"It was the first non-sponsored website that showed up".
The underlying theme here with participants who clicked on organic results was that they were not paid for and were, therefore, more trustworthy.
While the LSAs and local pack received much higher activity in our study, it's important to keep in mind that paid ads or local packs don't always appear in search results, so organic SEO remains incredibly important for law firms. Especially for long tail or other top of the funnel searches. We currently track around 20,000 law related keywords in our Google algorithm monitoring software and at this time, exactly 50% of the queries we track included LSAs. Smarter marketers are optimizing your site for bottom, middle and top of the funnel search terms.
For firms that have invested in SEO for a while and that have a great SEO company behind them, most know that SEO still provides the very best value when it comes to cost per lead or cost per signed case, especially considering the rising costs of paid search ads on Google.
Important Takeaways
LSAs get the most first-clicks when they appear in the SERPs
Users clicked most on the LSA listing with the most reviews, highest ratings, and most experience
Local pack listings with the most reviews and the most years of experience received the most clicks
The #1 organic result received the 4th most clicks of any item on the page.
Google SERPs are constantly changing and you can expect more changes to be made.
LSAs do not appear for most law related search terms so having high visibility in organic results remains important.
Current Changes in SERPs
We have been observing much more variation in the Google search results of late for searches in the legal industry. I don't just mean ranking changes, but changes in what SERP features are displaying. For example, we have observed Google reducing the number of local packs that show up (and we aren't the only ones, as Joy Hawkins mentions here) in searches, as mentioned by Barry Schwartz on Twitter recently.
We've seen many other different variations in the layouts of Google search results as well. Sometimes searches include LSAs but do not display text ads, as was the case in our study. We've seen paid ads appear in the local 3-pack. Other times, both LSAs and search ads appear in local searches. In other instances, the local packs appear near the bottom of the SERPs. You can click the thumbnails below to see larger versions.
| | |
| --- | --- |
| SERPs – No LSAs | SERPs – Local pack at bottom |
| | |
Click the thumbnails below to see larger versions of each image
The point being, you can't rely on anything right now because there are so many changes occurring at this time. You can expect additional changes overall when Google introduces AI chat features to its core search engine. It will be interesting to see how these changes impact the legal vertical, but you can be sure we will be watching closely. As an FYI, currently, we track over 30,000 law-related keywords on Google search results every day (and have for many years).
Final Comments
Again, I'll point out that this was a 1st click test, and in a real-world scenario, users will be clicking on many different results when using Google to research which law firms to hire. During our many consumer testing studies over the years, we've consistently observed people clicking on BOTH paid and organic listings in the same set of Google search results. We also know that's true from Google Analytics data that we analyze on a regular basis. Additionally, it's important to keep in mind that Google Ad costs will continue to rise. I don't know about your law firm, but most firms we work with don't have an unlimited paid budget. No matter what, you should never put all your eggs in one basket and rely on one thing only.
The smartest thing for law firms to do is to run both organic and paid ads if budget allows. If properly optimized, running both organic and paid campaigns will ultimately give you the best chance of signing up new clients on a consistent basis.
We will continue to run additional click test studies, as further testing is needed considering all the changes that are happening of late. If you want to be alerted when we publish new studies, make sure to sign up for our newsletter.